When do I receive an order confirmation?
When you have completed your order you will receive an automatic informal confirmation by email. The contract is only concluded when the order confirmation is sent in the course of order processing.
How can I cancel my order?
If your order hasn't been prepared for shipping, we can cancel your order.
To contact form
Where is my package?
When we have shipped your order, you will receive a confirmation email with your GLS tracking number. With one click, you can easily track where your package is located.
* Fieldpost consignments are not possible!

If you don't receive an email, look again in your spam folder.
How long does the delivery take?
Orders received by 11am the same day will be processed and shipped the same day. Otherwise, the shipment will be on the next working day. The duration of the delivery varies for each country.
Here's how long a package takes to get you home:
Check shipping time!
*We don't offer express delivery!
How can I pre-order or reserve an item?
For items that are not available, unfortunately, no reservation or pre-order is possible.
How much does the shipping cost?
Our shipping costs table
| | |
| --- | --- |
| Belgien | 9,50 € |
| Bulgarien | 9,50 € |
| Dänemark | 9,50 € |
| Deutschland | 0 € |
| Estland | 9,50 € |
| Finnland | 9,50 € |
| Frankreich | 0 € |
| Griechenland | 30 € |
| Irland | 9,50 € |
| Italien | 9,50 € |
| Kroatien | 9,50 € |
| Lettland | 9,50 € |
| Litauen | 9,50 € |
| Luxemburg | 9,50 € |
| Schweiz | 0 € inkl. Zoll |
| Niederlande | 9,50 € |
| Österreich | 0 € |
| Polen | 9,50 € |
| Portugal | 9,50 € |
| Rumänien | 9,50 € |
| Schweden | 9,50 € |
| Slowakei | 9,50 € |
| Slowenien | 9,50 € |
| Spanien | 9,50 € |
| Tschechische Republik | 9,50 € |
| Ungarn | 9,50 € |
| Großbritannien | 0 € |
| Fürstentum Liechtenstein | 0 € inkl. Zoll |
** Switzerland free domicile, duty paid, taxed
Which payment options are there?
*Delivery on account not possible!
How do I use coupon codes?
A coupon code can be redeemed from a value of 100 € and should be entered by you in the field Redeem coupon code before ordering.

*The redemption of vouchers is not possible in retrospect!
How do I get an authorities discount?
In order to get the government discount of -10%, we ask you to register with us in the online store and check the box for government registration when you log in. After that, you can upload a photo of the official ID card so that the validity can be checked.

If you already have a user account, please go to your user profile and select the tab Authority registration. There you can upload your photo of the service card. The discount code will then be released. From then on, it will be automatically deducted from every order at the checkout (valid for 1 year).

We do not offer field mail deliveries.
Army postal delivery service
We would like to point out that Carinthia unfortunately does not offer any Army postal delivery service.
How can I return or exchange my item?
You can return / exchange items
within 14 days
if the item is new, unused and in its original condition.
Please use our
return form
and put it in your package, which you send back to us.
(The costs for the return shipping are borne by the customer.)
After receipt of the goods, the items will be checked, if the return is ok, the purchase amount will be refunded to you via the means of payment used in the order.
How long does the purchase refund take?
The purchase amount will be refunded to you 2-3 days after receipt of the goods in the order specified payment.
What to do if the item is broken or damaged?

Please submit a complaint - fill out the form and upload a few pictures, so that we can quickly check your complaint.

Please note:
- Repairs can only be made on clean-washed items.
- Self-inflicted damage is offered no repair service.
- Down filling is not possible!!

You can easily track the status of your repair here (here = link).
Information about our products
How do I find out, which size fits me best?
Size chart Apparel
The size chart of the sleeping bags can be found in the item information of the respective sleeping bag.
We recommend size M up to a height of 185cm, and size L from a height of 185cm.
What is G-LOFT®?
The revolutionary G-LOFT® insulation meets the highest demands. G-LOFT® is the first insulation material to combine the benefits of natural down with the insensitivity of synthetic fibers. Permanently.
More Information
What is CQ-Down™?
We only use CARINTHIA CQ-DOWN™. This high-quality duck and goose down is produced and selected according to strict quality and due care criteria.
What makes a good down filling?
All the parameters listed below are decisive for the quality of the down:

The raw material
The species itself: either goose (= better as it's larger) or duck, and which breed.
The feed: concentrated feed is better for growth – e.g. corn feed instead of grass
The climate where the animal lived: the colder the climate, the better the quality.
The keeping of the animals: free-range and outdoors is better than indoor breeding.
The age of the animal: the down of older animals is better, as it is larger, stronger and better formed.
The know-how and the diligence during further processing.

The ratio of down and feather in the filling is also important
Example: 90/10 goose down. The 90 refers to the percentage of down and the 10 refers to the percentage of feathers in the insulation mix.
Important:
The so-called weight percentage does not give any information as to the quality of the raw materials and their ability to insulate properly.
The most important quality feature is the filling power of the down.

What is CQ-DOWN™?
We only use European duck and goose down with a fill power of 600 to over 800 cuin (= cubic inches). This high-quality, certified product is processed into CQ-Down™. CQ-Down™ stands for Carinthia Quality and underlines the promise that we give to our demanding customers.

What makes down so special?
Thanks to its three-dimensional structure down is able to trap plenty of air in proportion to its weight. A good down feather has about 2 million fluffy "legs" which interlock with other down. In between, the down traps non-heat-conducting air, which protects against the cold. Due to its very high resilience down can be compressed considerably. After taking the down product out of the stuff sack, shake it well and give it air to "breathe". The down expands to the original shape and will keep you as warm as before.

Where does CQ-Down™ come from?
We purchase high quality European goose and duck down from renowned German manufacturers. We only use products that do not come from live plucking!

FILLPOWER
The "fill-power" (also called "loft") is the most important measure of down quality. It states which volume can be filled by a certain amount of down.
CARINTHIA uses the "new" international method as recommended by the IDFB – International Down and Feather Bureau. A device is used, where 30 g of down is placed into a cylinder and loaded with a defined weight for a period of 1 minute. The remaining volume of the down is measured in cubic inches (1 cuin = 16,39 cm3) and shows the fill-power of the down.
The IDFB testing method, typically results in around a 5 % lower value than the "old" American method. In addition, you generally have to take into consideration a certain measuring tolerance in the down as it is a natural product. Again, it may vary by up to 5 %. As a general rule: the more cuin fill-power, the better the heat retention.
Where are CARINTHIA products produced?
We manufacture 100% of our products in Europe – both in our wholly-owned premises in Slovakia and in our headquarters in Carinthia. We strongly believe that this local production is the only way to control the process and guarantee the highest manufacturing standards we need to provide the best quality and performance you want. As a family-owned business, we are lucky enough to plan and develop our company's success on a long-term basis – no obsessively keeping an eye on shareholder value and stock prices. Producing "in our back yard" gives us the flexibility to rapidly enhance quality and design of the product and produce it immediately. We are continually searching for and implementing new solutions to enhance the safety, comfort and outdoor experiences of our customers.

Is my sleeping bag combinable?
These G-LOFT® sleeping bags can be combined with each other.
(G90, G145, G180, G180L, G250, G280, G350, G490x)
How do I use my sleeping bag properly?
In order to make the most of the warmth of your sleeping bag, you should pay attention to the following points:

- Using the right clothes in the sleeping bag:
Optimally, you carry in the sleeping bag a light base layer or pajamas. The more layers you carry in the sleeping bag, the faster you will cool off as a sleeping bag does not generate heat, it only stores and isolates the heat given off by the body.

- Use of a good sleeping mat:
If you want to sleep in your sleeping bag without too much of a cold, you should always remember to use a good mattress because the weight of the body compresses the layer to the ground and thus loses almost all its insulation.

- You should not undercooled put in the sleeping bag.
It's best to warm yourself up first so that there is always body heat to isolate.

- In the head area is lost most of the heat, therefore you should always tighten the existing hood completely.
Is my sleeping bag PFC free?
Your Carinthia sleeping bag isn't PFC free, but it's working diligently to avoid it in the future!
Why I'm having problems closing my zipper?
Carinthia uses high quality YKK zippers.
For easy closing you will find a short manual
here
.
Is it possible to get a catalog?
Our Compay cares about the enviroment, thats the reason why we don´t send printed catalogues.
Online catalogues
What does Comf. F, Comf. M and Extreme mean?
Our temperature specifications for outdoor sleeping bags comply with an international standard according to EN 13537.

Comfort M refers to men, Comfort F refers to women

The Comfort temperature indicates the following:
The lower limit of the comfort temperature range, up to which the user of a sleeping bag in a relaxed posture, z. B. lying on his back, with his entire body is in thermal equilibrium and just not freezing

The extreme temperature indicates the following:
The lower extreme value of the temperature at which there is the risk of health damage from hypothermia (hypothermia).
What is a differential cut?
Optimum construction of the insulation layers. External dimensions are cut larger in order to give the insulation material (G-LOFT & CQ-Down™) the necessary space to build up its volume.
What is an anatomically shaped foot section?
Elaborate, three-dimensional construction in the foot area. It encloses the feet so that the toes do not compress the insulation material and thus prevents cold spots.
What's a thermal collar?
A collar filled with insulation material that holds the heat in the area of ​​the upper body.
How do I properly care for CARINTHIA G-LOFT® sleeping bags and clothing?

---
The sleeping bag should be aired at every opportunity, the latest after each tour, because the moisture that is produced by the body overnight, reduces the insulating power and results in an unpleasant smell. Every product needs a proper care. The sleeping bag should only be washed if it is really necessary, because each filling - whether down or synthetic - lose with every wash at Loft and function. Before washing all zipper pullers have to be placed into the zipper garages completely, all snaps and Velcro fasteners need to be closed also.
Preventive Care
In order to avoid frequent washing, we recommend using a liner. Most of our sleeping bags are equipped with special attachment loops for CARINTHIA liners. Here, the hygiene is important, because the liner is easier to wash. Some of our liners serve as additional insulation layer.
To avoid unpleasant smells, sleeping bags and garments must be extensively aired in open state after each use.
To treat small spots, we recommend to slightly & carefully pull away the outer or inner fabric from the insulation layer and to treat the spots separately with a wet cloth and special detergent before a complete wash is contemplated.
This is especially advisable in the neck and head area where sebaceous skin and hair remain. A professional cleaning is not recommended unless stains and debris abound.
Washing of G-LOFT® Sleeping bags
G-LOFT® for a simpler maintenance is suitable for washing machines and dryers. Wash in the washing machine on a gentle cycle. At low temperature tumble dry and remove immediately. Avoid excessive heat - do not bleach and do not iron. Do not use fabric softener.
The gentlest method continues to be hand washing. Soak with plenty of hot water in the tub with Synthetic detergent extensively, knead lightly and repeatedly rinse well. You can wash your sleeping bag also in the washing machine using a gentle cycle at a maximum temperature of 30°C. Use a mild detergent (best synthetic fiber detergent).
This requires a washing machine drum of minimum 7kg. Wash the product only individually. Before washing close all clips and open all string cords, turn sleeping on the left. You should repeat the rinse process several times to make sure that the detergent has been completely rinsed out before you hang it to dry in the fresh air. Spin only up to 500 spins per minute. Avoid direct sunlight at the drying. The drying machine can be carried out in the gentlest drying program with very low heat to strain the insulating fiber as little as possible. In between, take out and shake. This requires a washing machine drum of minimum 7 kg. For sleeping bags over 2 kilos dry weight, we recommend to use a large industrial dryer.
How do I wash down sleeping bags and down clothes?
---
Wash down sleeping bags or down garments only when absolutely necessary. Instead to extensive airing over several days in the fresh air. Light stains should be washed by hand in order to preserve the down.
Hand wash:
Put hand warm water and special-down-detergent into the tub and let the down product soak for several hours. Rinse several times with clear water. Do not wring, but only squeeze gently.
Washing machine:
As detergent one can use a special down detergent, but it also works with normal detergents, however, this should not contain bleach. Never use fabric softener! Basically, you can wash down products by yourself. However, this requires a washing drum that holds at least 7kg!
Caution: Normal household washing machines usually have only a capacity of 4kg!
Wash the product only individually on a gentle cycle at 30°C. You should repeat the rinse process several times to make sure that the detergent was removed safely. Spin only up to 500 spins per minute.
Properly drying without dryer
Place the down product on a drying rack in the shade. Every few hours squeeze out down lumps in the chambers. After several hours, the lumps are getting smaller, then shake the sleeping bag or down jacket again and turn it until it is dry. This will take about 2 to 3 days, depending on the volume. You can understand if the drying process has finished when no down lumps are recognizable.
Properly drying with dryer
Place the down products individually in the dryer and dry slowly ON THE LOWEST heat level (cold). Again: this requires a washing drum that holds at least 7kg! Do not put any tennis balls in the dryer. In between, take out and shake. Finally, hang at least 24 hours in the air and in between shake again.
How do I keep my sleeping bags properly?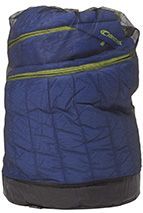 ---
Sleeping bags (and also down jackets) must be stored if possible open and hanging, or with open zippers in the storage sack. For storage, the filling needs enough space to expand and recover. Store the sleeping bag folded loosely or loosely rolled in the storage bag. Use the compression bag only for the transport! It is important not to roll the sleeping bag, but to stuff it beginning with the foot section with open zipper in the storage bag. Rolling strains the down filling always at the same spots and the construction can be damaged.
What is meant by CARINTHIA loden products?
---
To meet our high quality requirements, we purchase the high quality Loden outer material from Tirol. Tyrolean Loden made mostly from sheep's wool, which keeps perfectly warm and dry thanks to its natural structure. As insulation material we use G-LOFT® which is developed and manufactured at our company headquarters in Seeboden. In order to obtain the insulating power permanently, Loden products must be carefully cleaned and stored. Avoid storing it in a compressed state. Instead, you should ventilate Loden products after each use thoroughly and store it openly in order to neutralize odors and to dry the Loden.
To refresh the color again and retain odors the outer fabric can be brushed with a clothes brush (moistened with vinegar-water) from top to bottom. Tough stains can be removed by gently dabbing with a damp cloth and washing soap. To remove tough dirt, we recommend a professional cleaning at a specialist. Products with Loden as outer material may NOT be washed.
Most hunting & wildlife bags include a detachable foot section made out of a water- and dirt-repellent fabric. This can be washed in the washing machine at 40 degrees.
Which products do I use to impregnate my clothing / equipment?
For this we often recommend our customers:

IMPRA WASH by Heysports (a washable impregnation for microfiber + Goretex)
NIKWAX (Cleaning, care and impregnating agent for functional clothing and outdoor equipment)
How to properly stuff your sleeping bag into the compression bag
Short explanation video on how to stuff your sleeping bag in the the corresponding compression bag.


How to properly initiate the drawstring stopper
The initial state of the drawstring stopper is inactive. See how you can setup your drawstring stopper in this video.


YKK Zipper operating instructions
Short video on how to correctly handle this YKK Zipper.


How can I create a customer account?
Register under
"Login"
. In the following you will receive an e-mail from us with a confirmation link, by clicking on this link you will complete your registration for a Carinthia customer account.
What happens if I do not receive the confirmation email?
If you do not receive an e-mail with a confirmation link, please first check your spam folder. If you have not received an e-mail there, please contact our
customer service.
How can I change my password?
To quickly and easily re-assign your password just click on Change Password.
Change Password
How can I delete my customer account?
You can delete your customer account at any time under "My data".
When can I reach the CARINTHIA team?
You reach us from Monday to Friday from 08.00 – 12.00 and from 13.00 – 17.00.
Is there a stationary CARINTHIA shop?
You can also visit us in our shop in Seeboden.

Seebacherstraße 11-13
A-9871 Seeboden

Opening hours:
Monday – Friday
09.00 – 17.00